DISPLAY THE ADVANCED TECHNOLOGY OF THE HEALHCARE SECTOR AT VIETNAM MEDIPHARM EXPO 2020
Vietnam International Medical, Hospital & Pharmaceutical Exhibition is a typical and comprehensive event in Vietnam's Health Industry which is held annually under the support of the Ministry of Health. Following the successof the edition in August in Ho Chi Minh City, the 27th Vietnam Medipharm Expo will take place from 3 to 5 December 2020 at Hanoi International Exhibition Center (I.C.E)- 91 Tran Hung Dao Street, HoanKiem District, Hanoi.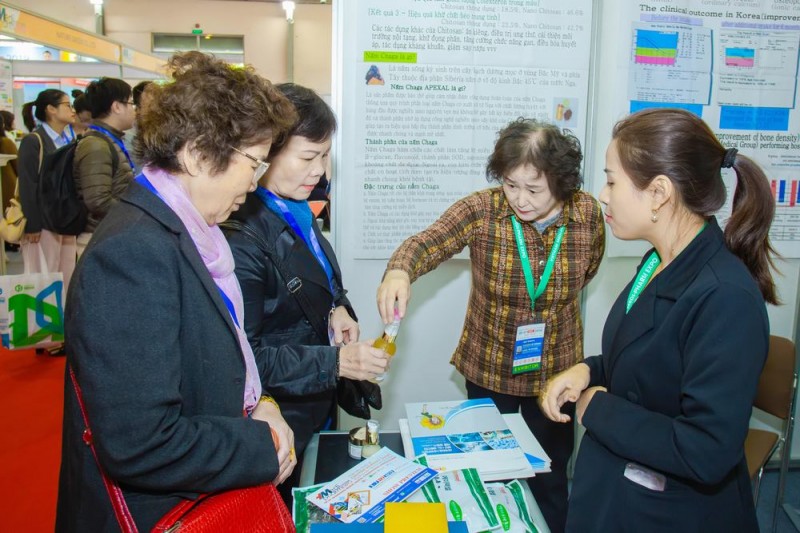 Gather prestigious businesses in Vietnam and abroad - display products of modern medical equipment, high quality pharmaceuticals and health care products.

With a total exhibition area of ​​7,500 square meter, the exhibition is constantly growing to become a forum for business connection, display and negotiation, technology transfer, contributing to improve citizen health care and protection. With many new achievements and modern technology will be demonstrated and introduced, this is an opportunity for organizations and businesses to promote products, exchange experiences, seize investment opportunities, expand markets, promote cooperation to improve efficiency in production, business and examination.

Vietnam Medipharm Expo 2020 brings together 250 booths of 220 exhibitors from 18 countries and territories such as India, Poland, Belarus, Taiwan, South Korea, Indonesia, Latvia, USA, Russia, Japan, Pakistan, Spain, Turkey, China, Ukraine, Vietnam ... Among them are 5 international pavilions: Korea, Indonesia, Malaysia, Russia and Japan.

The main products displayed at the exhibition include: Pharmaceuticals, herbs, functional foods; Food processing and packing machinery; Hospital services and medical tourism; Beauty care, aesthetics; Dental products, ophthalmic products; Medical equipment; Laboratory equipment, chemicals.

The exhibition is proud to be a professional trade promotion event, receiving the attention and participation of a large number of prestigious domestic enterprises such as Abipha International Pharmaceutical Jsc., B.Pure Vietnam Co., Ltd., Euro Medical Equipment Corporation, Minh Hoang Pharmaceutical Co., Ltd, Vlaser Technology Science Jsc., At Ti Vo International Co., Ltd, Hanoi Iec Co., Ltd, Kim Dental Co., Ltd, Phan Anh Medical Equipment, Avanta Diagnostics Co. Ltd. ...
Besides domestic exhibitors, Vietnam Medi-pharm Expo welcomes big names in international markets such as TANITA (Japan); APEXEL, MAS, K-BEAUTY, KATECARE, BIO HEALTH DOCTOR (Korea); SOLE PHARMA (Latvia); BIOFAKTOR (Poland); MEDITEK (Russia); MASENZ (Spain), CORENA (Turkey), BORIMED (Belarus), MEXPO (USA), ZDOROVYE (Ukraine)... Coming to this year's exhibition, businesses will display and introduce pharmaceuticalproducts, health care products and modern medical equipment, including: Scales to monitor body composition; Lifting thread; Endoscopic accessories; Spinal fixation system; Medical heaters; Emergency system, stress test; surgical and orthopedic equipment; diagnostic equipment ...
Especially, VIETNAM MEDI-PHARM EXPO 2020 marks the first appearance of the Indonesian Pavilion which is organized by the Indonesian Embassy and the Indonesian Association of Medical Device Manufacturer (ASPAKI). Seven Indonesian manufacturers introduce well-known brands of medical machineries and devices, clinical chemistry and test reagents, hospital beds and operating tables, and hospital furniture. Not only famous in the country, these brands constantly conquer the world market with products: AD syringes (auto disable syringe), medical gloves, baby/adult diapers and underpads, non-woven products ,Sphygmomanometer and Stethoscope, hospital beds and operating tables, etc.
Affirming the return of clients with the increasing of participating companies and specialized visitors
"Our company has been with the Exhibition for 10 years because of the practical business results that we gain after each participation. Through the exhibition, we can meet and discuss with potential customers and develop new cooperation opportunities." Ms. Nguyen ThiThanh Tam - Representative Director of Hanoi ICE Co., Ltd shared when participated in the 2019 Exhibition.
To promote effective trade promotion, the Organizer has set up specialized seminars; Program of direct trade connection between domestic and foreign businesses (Business matching); Special customer purchase program (VIPs Buyer). The exhibition is expected to welcome around 10,000 visitors working in the field of Medicine and Pharmacy.
Outstanding activities will take place within the Exhibition
With the strong development of the health sector, Vinexad cooperates with the Ministry of Health, Associations and businesses to organize many seminar programs taking place throughout the 3 days of the Exhibition. Especially, the program introduces and updates new policies and regulations in manufacturing and trading of pharmaceutical products and medical equipment in Vietnam. Besidethat, there will be a business meeting between Vietnamese and Russian businesses.