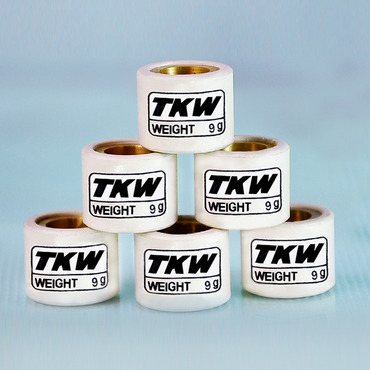 DIO PULLEY ROLLER
Specification:
5 g ~ 12 g
Model:
DIO 50、MIO 50/100、GY6 50、RX110、KIWI 100、HC3 100、4- U 100、GOINGR1 110 RV 100、G23 100、JET、JR 100


D I O

5 g

5.5 g

6 g

6.5 g

7 g

7.5 g

8 g

8.5g

9 g

9.5 g

10 g

11 g

12 g
■

TKW ROLLER , PRECISE WEIGHT ,

ENDURABLE RUBBING

& HIGH
TEMPERATURE , HIGH PRECISION
■ WEAR-RESISTANT MATERIAL
■ HIGH ACCURATE MACHINING PREVENT ABNORMAL RUBBIBG DURING
■ HIGH ACCURATE SIZE、WEIGHT DESIGN MINIMIZE ERROR
■ ALL VEHICLES WEIGHT COMPLETE
■ COMMODITY IMAGE FILE SLIGHTLY DIFFERENT SCREEN BRANDS AND RESOLUTION DIFFERENCES, THE ACTUAL PRODUCT COLORS PREVAIL.
■ THE TIME OF PURCHASE, A DETAILED EXAMINATION OF THE CONTENTS, IF THE SHORTAGE INSTANTLY WITH THE PURCHASE OF THE STORES TO updat NEW.
■ PLEASE READ THE INSTRUCTIONS TO INSTALL THE PRODUCT, SUCH AS updat THE ABILITY TO SEEK THE PROFESSIONAL TECHNICIANS ASSISTED INSTALLATION.
■ PHOTO FOR REFERENCE. REAL PARTS FOR THAT YOU RECEIVE, PICTURE/DIAGRAM FOR REFERENCE ONLY, PLEASE SEE SAMPLE FOR ACTUAL SIZE.
| | | | | |
| --- | --- | --- | --- | --- |
| 恰恰 100 | JET | JR 100 | DIO 50 | EASY 100 |
| MIO 50 | MIO 100 | GY6 50 | 4- U 100 | KIWI 100 |
| GOINGR110 | RV 100 | RX 110 | RV 100 | G23 100 |
| HC3 100 | | | | |