It has been years that people are endeavoring to achieve ecological livelihood. Since Chinese government has listed ecological civilization construction into an overall strategic layout, domestic projects such as Sponge City are paid more attention in order to create a better living environment—a suitable and livable city-- for residents in China. Due to this ecological trend, people are gradually becoming realized that the status of their livelihood is much more important than any other satisfaction. Cities and residents are appealing for more green plants. Undoubtedly, this new trend may leads Chinese horticultural industries, as well as other relative industries into a new era.
Hortiflorexpo IPM is organized by the Chinese Flower Association (CFA), the only national flower association in China, taking place alternately in Shanghai and Beijing in the spring of each year. It has grown to become the largest trade show in the floricultural, horticultural and gardening industry in the whole of Asia. This year, The 19
th
Hortiflorexpo IPM Shanghai is going to be held from 10
th
to 12
th
of May in Shanghai New International Exhibition Center.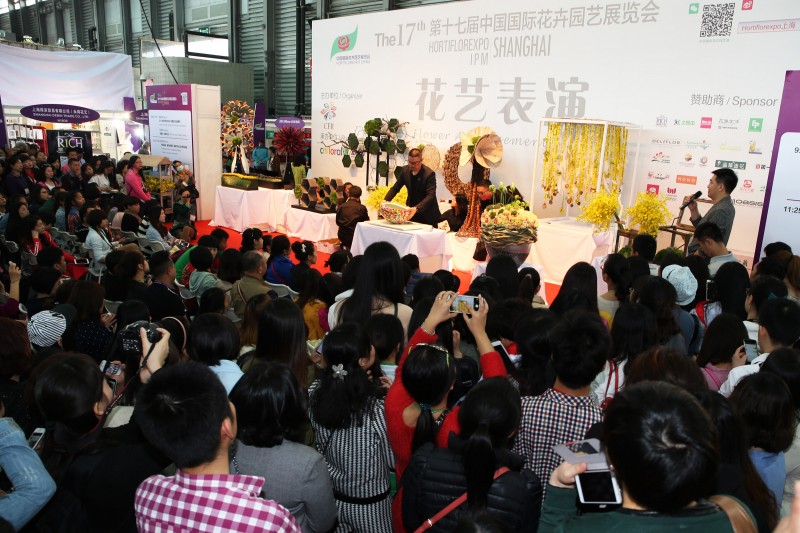 With almost 20 years of development, Hortiflorexpo IPM Shanghai/Beijing is now popularly acknowledged as the first step for international enterprises to establish themselves in China, now welcoming more than 700 companies from over 30 countries, as well as almost 300 thousand professional visitors annually. Exhibitors are from Netherlands, Germany, France, Belgium, Ecuador, Colombia, Korea, Japan, Denmark, US, Sweden, Italy, Israel, Spain, Poland, Australia, Kenya, Norway, Hong Kong SAR, Taiwan Province and mainland China. Also, countries such as Netherlands, Germany, France, Ecuador, Colombia, Korea, Japan and Taiwan Province will exhibits in the form of pavilions.

This is a rare opportunity for foreign companies to present their latest products. Harald Braungardt, the CEO of INDEGA and the representative of the German Government, has made positive comments on the fair in 2015:" with this good stage and opportunity, German companies can not only exchange information with potential customers, but also have great platform to explore new technologies and development with professions. Besides, the high functional running and management of the show also gave me good impressions."

This fair presents a large variety of products ranges from cut flowers, pot plants, fertilizer, seedling and bulbs, to green project, irrigation, water treatment, gardening machinery, tools, floral materials, pots, landscape materials, horticultural materials, shade, greenhouse and roof gardens.

It keeps catching up the latest trend of horticultural industry. It offers clear insight into the Chinese market through not only the show itself, but also its considerable events programme, including conferences, seminars and much more. For example, it already has "Holland Day conference", "The Vertical Green Forum", "The Landscape Designers", "Special Consumer Forum for Home Gardening", "Greenhouse Equipment Conference" and more other coming events.

Moreover, there will be a three-day-running flower arrangement show during the fair. Worlds' top florists from France, Japan, US and China will be special hosts and guests to the present and present incredible arts of flower arrangement. This face-to-face event allows audience to acquire latest fashion of flower arrangement as well as its techniques.


With 19 years development, the show is becoming the "weather vane" of the Chinese floral and horticultural industry with the considerable range of products and events. In May 2017, Hortiflorexpo IPM will be held in Shanghai, there for everyone interested in the China's blossoming market.

This year, be a part of the spring!