IPGEXPO 2015
International Pot Plant AND Garden EXPO 2015
Date:Nov., 20- 22, 2015
Venue:Guangzhou Flower Capital of Agriculture
An ideal platform for Pot Plants, Floral and Garden Supply industry!
An extension and supplement of "Hortiflorexpo China"!
Supported by: China Flower Association
Bureau of Agriculture of Guangzhou Municipality
Huadu District Government of Guangzhou Municipality
Managed by: China Great Wall International Exhibition Co., Ltd.
Guangzhou Flower Capital of Agriculture Co., Ltd.
Index Shanghai Co.,Ltd
Co-organized by: Potted Plant Branch of China Flower Association
Retail Trade Branch of China Flower Association
Nursery Stock Branch of China Flower Association
Guangdong Flowers Association
Guangdong Flowers Chamber of Commerce
Guangdong Society of Landscape Architecture
China's Flower Art Online
IPGEXPO——The best trading platform of extending the market of Pot Plants, Floral and garden Supplies!
Topic: Flowers & Plants Enrich Your Life!
Supported by the China Flower Association, IPGEXPO is the extension and supplement of the "Hortiflorexpo". IPGEXPO focus on providing a good service for the growers, manufacturers and dealers of pot plants, garden and floral supplies, making a one-stop order-placing-meeting for Christmas, New Year and Spring Festival in China, creating an ideal platform for related enterprises to communicate with other international participants in the world!
>> A valuable commercial opportunity
Along with the economic prosperity, the demand of urban forestation and garden decoration has increased, which has generated the large market in China. Currently, a large number of residences expect to live in green and comfortable environment. In addition, East China and South China are the biggest growing and distribution areas of Pot Plants in China as well as two of the main areas of floral and garden production & supply in the world. Every year there are a lot of buyers and dealers who come from other countries around the world to gather here to purchase products and actively seek new suppliers. At the same time, because of the closer connection between China and other countries in this field, the growing market demands have created a very valuable commercial opportunity!
>> A rapidly growing industry
According to incomplete statistics, the global garden supplies market capacity was USD 47.49 billion in 2010 and it is estimated to exceed USD 61 billion in 2015. Also, the market volume of Chinese garden products was about USD 0.42 billion in 2010 and it is predicted to exceed USD 1.5 billion in the year of 2015.
Data of China's flower production and business operation in 2012 & 2013
(data source: The Ministry of Agriculture)
| | | | |
| --- | --- | --- | --- |
| | 2013 | 2012 | Increased(%) |
| Flower Market | 3533.00 | 3276.00 | 7.84% |
| Flower Enterprise | 83338.00 | 68878.00 | 20.99% |
| Thereinto: large and medium-sized enterprises | 15403.00 | 14189.00 | 8.56% |
| Flower Grower(unit) | 1834117.00 | 1752395.00 | 4.66% |
| Practitioner | 5505708.00 | 4935268.00 | 11.56% |
| professional | 303281.00 | 241407.00 | 25.63% |
China's Flowers Volume & Quantity & Sales (excerpts)
(data source: The Ministry of Agriculture)
Category


Planting Area (ha)


Unit of Sales Volume


Sales Volume


Sales Revenue
(RMB 10K)


Export Sales
(USD 10K)


1. Potted Plants


103952.63


Pot (10K)


555501.77


2815012.78


11320.1


Including:Pot Plant


61035.51


Pot (10K)


286086.16


1870392.34


7122.14


Bonsai


18804.92


Pot (10K)


38096.32


541535.37


4156.96


Bedding Plant


24112.2


Pot (10K)


231319.29


403085.07


41


2. Ornamental Plant


714100.59


Pot (10K)


1304951.95


6523237.82


3808.38


3. Lawn


37402.42


Square
(ten thousand)


181830.2


227924.76


0


4. Flowers for Seeds


4612.42


Kilogram


718293.99


45618.35


452


5. Flowers for Seedings


8828.15


Tree
(ten thousand)


808302.58


214994.8


6979.53


6. Flowers for Seedball


4173.62


Grain
(ten thousand)


118152.54


66858.68


0


7. Dried Flower


53.2


----


----


11620.61


1076

A one-stop order-placing-meeting in Floricultrual, Horticultural and Garden Industry for Christmas, New Year and Spring Festival!
Review (Dec., 6-8, 2013)
Exhibitors: 150 exhibitors came from 13 countries and regions
The exhibition area was about 10,000m2.
Buyers: Buyers came from 21 countries and regions
There were 6113 professional buyers in total, including 151 overseas buyers
Concurrent activities
Establishing of a"Small Potted" Group in Potted Plant Branch of China's Flower Association,
Gathering of 2013 National Ornamental Nursery Stock entrepreneurs ,
China (South) Ornamental Plant BBS,
China florist network marketing BBS,
Floriculture performed by champion and the silver medal winner of the 3rd "China Cups" Flower Arrangement Contest.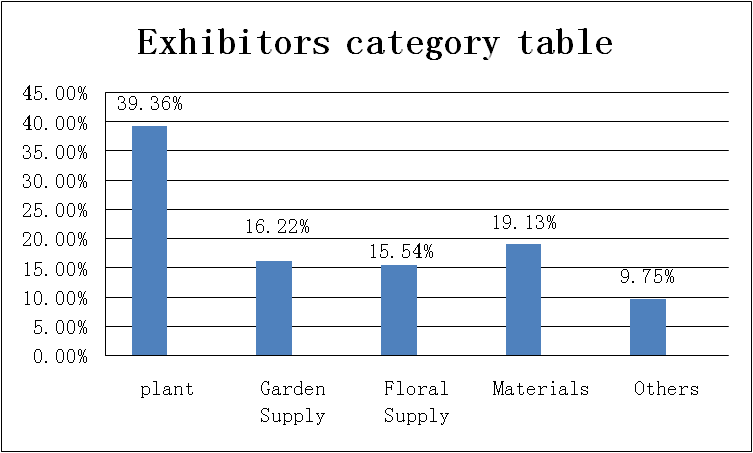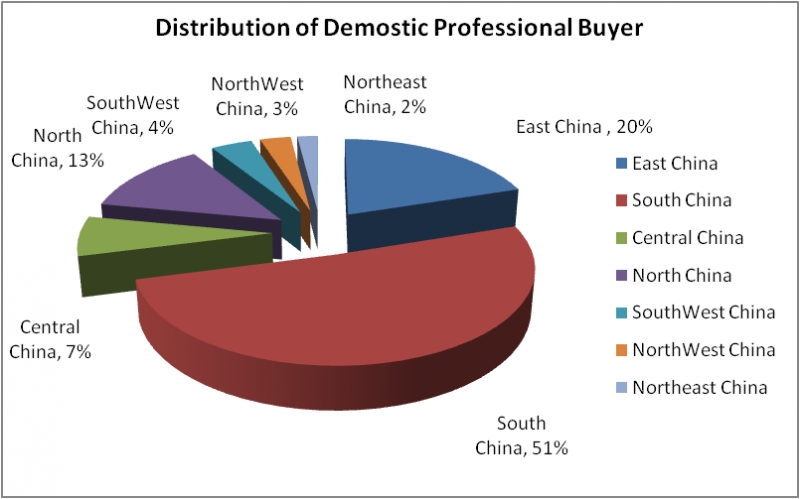 >> Exhibits Profile:
1. Pot Plant: potted plant, bonsai, bedding plant, shade plant, patterned plant, indoor pot plant, office mini pot plant, fruit & vegetable patterned bonsai;
2. Garden Products: pot, implantation utensil, cultivation substrate soil, fertilizer, pesticide, garden tools (hoe, spade, sprinkler, glove, shoe), garden sculpture, garden equipment, hardware product, electrical tool, green DIY horticulture product;
3. Floral Supplies: vase, dry flower, artificial flower, flower arrangement apparatus, packing material, ornamental plant, flower storage & freshness preservation technology and equipment,
4. Landscape Products: fence, gardening stone, garden machinery, garden tool, lighting equipment, door and railing, fountain equipment, outdoor furniture, corrosion resistant wood product, courtyard design, roof green, vertical green, etc.
5. Seeds, seedlings, seedballs; pest prevention and cure, maintenance materials and related technology, etc.
6. Professional association, publication, website, etc.
Booth rates
| | | |
| --- | --- | --- |
| Location | Raw space(RMB) | Shell Scheme(RMB) |
| Area A | 800/sqm | 8000/9sqm |
| Area B | 700/sqm | 7000/9sqm |
| Area C | 600/sqm | 6000/9sqm |
Note:
◆The exhibitors who have participated in IPGEXPO and HORTIFLOREXPO in previous years, can enjoy the privileges if contracts are signed and deposits are paid by August 1, 2015. For details, please contact the organizing committee.
◆Cost for Raw space includes: space rental, security, exhibitor passes
◆Cost for Shell Scheme includes: space rental, stand construction and dismantling, side and rear partitions (white, 2.5m high) , wall to wall carpet, fascia board with company name/booth number, 1 table and 2 chairs, 1 waste bin, 2 spotlights, 1 socket, daily booth cleaning security, exhibitor passes.
Other Advertisement
| | | | |
| --- | --- | --- | --- |
| Position | Price(RMB) | Position | Price (RMB) |
| Ad. on the back of tickets | 5,000 /10K | Ad. on the badges' lanyard | 10,000 |
| Ad.of 2 sides of bags | 3,000 /K | Ad. on the back of badges | 10,000 |
| Arch | 3,000 | Balloon | 2,500 |
| Flower art sponsorship | Discuss Personally | Audience gifts sponsorship | Discuss Personally |
For further information, please contact:
China Great Wall International Exhibition Co., Ltd
Address: 1st Floor of Daguanguoji, No. 88 Nan Cai Yuan Street, Xi Cheng District, Beijing
100054, P. R. China
Contacts:Xinyue Wang, Chunbo Wang
Tel: +86 010-88102216/2252/2248
Fax:+86 010-88102234
E-mail:horti@chgie.com(2039635139@qq.com)
Web:www.ipgexpo.com