INTRODUCTION
√
Delineated Step
accommodates a wide range of users and aid the user in proper foot placement.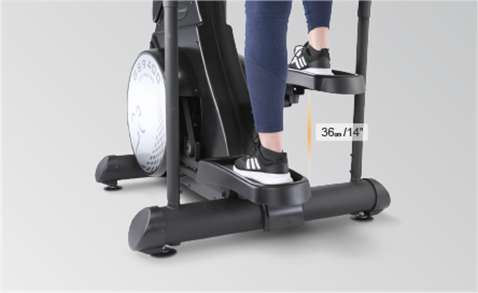 √ Oversized Non-Slip Footpads can privide extra grip on the sole of shoes to prevent slips and falls.





√ Multi-Position Support Handrails are helpful and supportive when stepping up.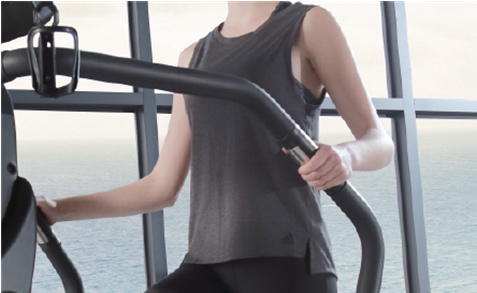 WORKOUT FUN WITH Kinomap and Zwift APPS
FOR A MORE IMMERSIVE EXPERIENCE!
Unique Workout Experience with Smart Console
"Brain Game" workout is an exclusive and theory-based regimen that enhances progressive to optimize the effort user put in. "Brain Game" program provides interactive and engaging software that motives users, especially for the senior people, to improve their motor skills to keep activity of daily living.
Making the general user, senior, rehabilitation, or wheelchair exercisers stay engaged and on track to reach their fitness goals.


SPECIFICATIONS
Features

Step Length
2.5 - 36 cm / 1" - 14"
Pedaling Independent System
●
Pedal Design
Oversized & Non-Slip Pedals
Supportive Handlebars
●
Adjustable Console
●
Integrated Reading Rack
●
Removable Water Bottle Holder
●
Wheels for Easy Mobility
●
Heart Rate
Contact Hear Rate, Built-in Heart Rate Monitor
Certificated
CE

Standard Console

Display Type
9" White Backlit LCD
Exercise Programs
20, Warm Up, Manual, Interval, Valley, Ramp, Mountain, Rolling, Climb, Random, Hill, Fat Burn, Cardio, Strength, HRC (65%, 85%), Constant Power, Isokinetic, Goal (Calories, Distance), Recovery, User 1
Display Feedback
Time, Level, Pulse, Distance, Calories, RPM/ SPM, Watts, METs, Speed
Capacitance Touchable Keypad
●
USB Port
Expoer Workout Data, Software Upgrade and Charging
Quick Start
●
Pause Function
●

Smart Console

Display Type
10.1" TFT IPS Touch Screen
Exercise Program
16, Quick Start, Hill, Interval, Goal (Time, Calories, Distance, Steps), Virtual Reality, HRC (60%, 80%, Target HR), Fitness Test, Custom, Isokinetic, Constant Power, Brain Games
Display Feedback
Time, Level, Pulse, Distance, Calories, METs/Watt, RPM/Speed
Multi-Language
●
Entertainment System
●
Bluetooth/ Wireless/ NFC
●
USB Port
Export Workout Data, Software Upgrade and Charging
i-Care Function
●
Quick Start
●
Pause Function
●
Headphone Plug
●
RS232 Port
●
Resistance System
Operation System
A. EMS System (Electromagnetic)
B. DX System (Generator)
Resistance Levels
36/ Smart Console
Resistance Levels
32/ Standard Console
Power Requirements
Input: 100-240 VAC ~ 50/60Hz, 1.5A Max
Output: DC30V-2.0A

Tech Spec.

Max. User Weight
200 kg/ 440 lbs.
N.W.
109 kg/ 240 lbs.
G.W.
119 kg/ 262 lbs.
Overall Dimensions (L x W x H)
125 x 104 x 178 cm/ 49" x 41" x 70"